ACT
CHECK. CALL. COMPRESS.
If somebody collapses and loses conscious - ness, three things are important:
1. CHECK
Speak to the person: "Can you hear me?"
Shake their shoulders: is there any reaction?
Check their breathing: are they breathing / are they breathing normally?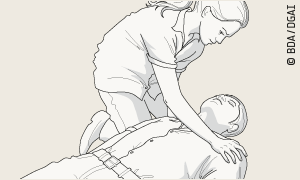 2. CALL
Dial 112 (Europe) / 911(USA).
Or get someone else to make an emergency call.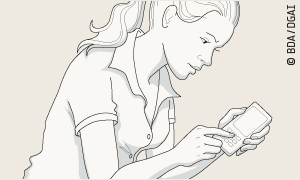 3. COMPRESS
Push down firmly and quickly.  Start cardiac massage immediately:
Remove clothing to access the chest
Place the heel of one hand on the middle of the chest and the heel of the other on top of it
VInterlock your fingers. Hold your arms straight and position your shoulders vertically above the pressure point – this will help you to apply plenty of force.
Push the breastbone 5 – 6 cm downwards
Push 100 – 120 times per minute .

Do not stop until help arrives.
Trained first-aiders should carry out mouth-to-mouth  resuscitation at a ratio of 30 cardiac compressions to two respirations.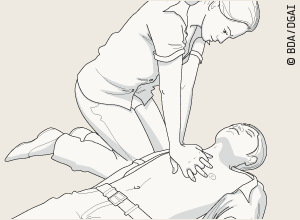 Simply cut out, fold twice and keep for emergencies.